Pick Up The Speed In The Kia K5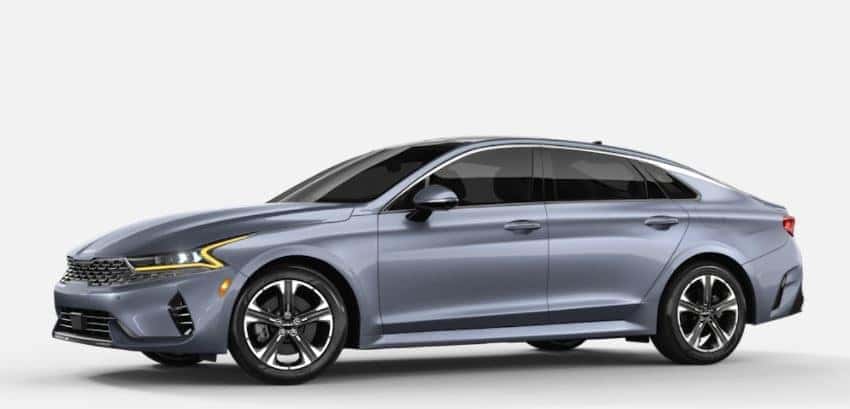 The Kia K5 is rising on the popularity charts. People are impressed with what this Kia model has to offer. Kia has added endless new features, including some of the newest technology.  The Kia K5 would make for a great weekend vehicle for fun, and it also doubles as a spacious vehicle for the family to cruise in. You really can't go wrong with what the Kia K5 has to offer!
A Bold Style
When Kia lovers see the word "style", they often think of the Kia Stinger. The Kia K5 has changed that now with its more aggressive approach to style. Even with its tamer trim levels, it seems as if the Kia K5 may have outdone the style that was once known as the "Stinger Style." The Kia K5 now includes black and silver two-tone wheels, more aggressive front and rear fascia's, and a small black lip spoiler, making it a head-turner when cruising down the street. Another addition taken from the Telluride model is the orange daytime running lights. These were added not particularly for sight enhancement reasons but for added style.
First-Class Quality Interior
In comparison to the Kia Optima, the Kia K5's interior has been upgraded significantly. In addition to the gorgeous leather interior and stellar design, when entering the cabin, you will automatically notice the endless storage opportunities throughout the vehicle. There is a large area for storage above the shifter, and two abnormally larger cupholders on the side of the shifter made to be out of the way of your arm while driving.
You might also like:  5 Holiday Lighting Tips That Will Save You Money On Your Electric Bill
Advanced Technology
As time goes on, technology seems to advance more and more. That is why the Kia K5 is fully equipped with the most advanced technology you can imagine. For example, the wireless charger behind the shifter is also great storage. The Kia K5 has a touchscreen that totals about eight inches. This screen is now compatible with Apple CarPlay® and Android Auto Connectivity. In addition, the safety technology that the K5 has is incredible. The new Lead Vehicle Departure Alert warns you when the car in front starts moving from a stop, giving you a nudge to stop adjusting the radio or playing with your phone at stoplights or stop signs!