Stay Warm With This Squash Soup Recipe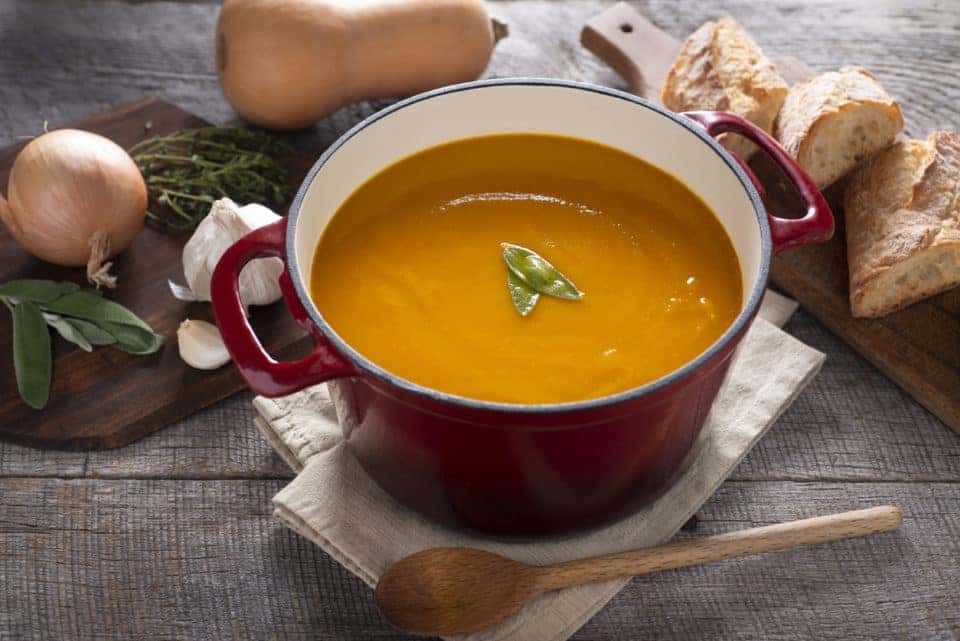 This butternut squash soup is a yummy, filling, creamy, and so good you'll want to make it over and over again. It also helps that the recipe is super simple.  Keep reading for a step-by-step guide  and a few tidbits about the great benefits of eating more butternut squash.
Why You Should Eat More Butternut Squash
Why should you add more butternut squash to your diet? Well for starters, it's super tasty. It has a sweet nutty flavor that even your kids will love, which is great since it makes it easy to pack more nutrients into their diets. Butternut squash is filled with vitamins, minerals, antioxidants, and fiber. Read on for a scrumptious recipe.
Ingredients
1 (3 to 3 1/2-pound) butternut squash
2 teaspoons of kosher salt (or to taste)
3/4  teaspoon of freshly ground black pepper, divided
6 sprigs of fresh thyme, divided
1 tablespoon of extra-virgin olive oil
1 large yellow onion, chopped
3 large cloves of garlic, thinly sliced
2 medium carrots, thinly sliced (1 cup)
2 bay leaves
1 (13.5-ounce) can of light coconut milk
1 cup of water (more may be needed)
1 tablespoon lemon juice
1 to 2 tablespoons pure maple syrup, to taste
You might also like: Have A Night Out At Saltwater Grill
Instructions
Preheat your oven to 400°F.
Cut of the stem of the squash of, then slice it in half lengthwise.
Season the interior with salt and pepper then press one sprig of thyme on top of the seeds on both halves.
Lay the squash cut-side-down on a sheet pan.
Roast for 1 hour or until the skin begins to wrinkle and brown.
While the squash is roasting, grab a large sauce pan and heat the olive oil over medium heat.
 Add the onions, garlic, carrots, four sprigs of thyme, two bay leaves, 1 teaspoon of salt,  and a 1/2 teaspoon of pepper. Sauté until the carrots are nearly tender and the onion have become translucent. Don't let your onions brown.
Add coconut milk and water, lower the heat, and simmer for 10 minutes.
Take the pot off of the heat. Remove and discard the thyme and bay leaves.
When the squash has finished roasting, scoop out the strings, seeds, and thyme sprigs. Cut away the skin of the squash as well. Discard.
Add the squash, lemon juice, maple syrup, and remaining salt to the pot.
Use an immersion blender or transfer the soup to a standard blender, and blend until the soup is smooth and creamy.
Ladle it out and serve with salt and pepper to taste. Enjoy!